Netflix Roulette: Octane (2007)
Let's preface this review by starting with a universal truth. Netflix is the single greatest thing to happen to film since the digital age. However, with Netflix there is little in the way of selection if you decide to stream movies from your game system or computer. There's a sharp contrast between the movies you have to wait a day for and the one's that are readily available. So while everyone is pissed that you rented "Kick-Ass" the day of your little get together, in the meantime, you'll have to make do with "3 Ninjas Kick Back" streaming in glorious Hi-Def from your PS3. Let's face it. Netflix is basically wagging its dick in your eye with free shitty movies and it knows it.
Therefore I decided to dive headfirst into the sea of one-star rated movies to find the perfect example of Netflix's ruthlessness. Was I going to Queue It Or Spew It? And I came across this gem of a poster.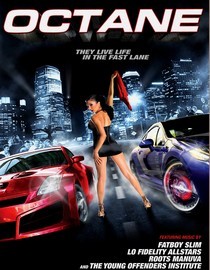 A halo surrounded my computer. The tagline spoke volumes. "They live life in the fast lane." I needed to watch this movie immediately.
As I settled into my pre-show ritual of preparing for bad movies, I fortified myself with a spread of spicy chicken nuggets, double stacks, a twelve pack of High Life and a bottle of Pepto. If I was going to suffer, then damn it, I was going to enjoy it. I hit the start button on the PS3 controller, ready for the ridiculous close up shots of neon sports cars, tits, and douchebags.
And then the universe kicked me in the mouth.
Originally called "Dolphins" in it's UK release (which is where it originates), Octane is the single greatest movie about street racing and culture that virtually has none of it actually in the movie. Why? Because the movie isn't about racing at all. In a not-so-clever attempt to cash in on the Fast and Furious-slash-Biker Boyz "extreme" racing coattails, the movie is pitched as another "extreme sports" clone. It's not. In fact, it's a Romeo and Juliet story against backdrop of the dirty slums of Brighton, UK.
Because of this misleading information, I can understand all the one-stars it received from the 14-year old boys who expected to see tits, fast cars, and an orgy of Michael Bay explosions. But after watching the movie, it becomes extremely clear that the ones who went in with an expectation of such, came out pissed beyond belief that they watched something that was clearly written, filmed, and produced way over their heads. It's like when an idiot doesn't understand anything unless it's been insulted.
Brent Black is a twenty-something nobody who scores a tricked out ride from working at a chop shop, living in the moment with his drunken father Billy, his mentally-retarded, paint-huffing younger brother Craig, and his pregnant, chain-smoking girlfriend Carly. It's safe to say that the deck of life is already stacked against our hero.
Ophelia is a twenty-something somebody from a rich family who spends her days reading Keats and nights snorting lines of coke. Our nobody meets our somebody when ripped on a gram of coke, "Phee" stumbles into traffic while Brent is joyriding with Carly down a busy street. Slamming on his breaks, she presses her hands to the hood suddenly realizing the seconds she was away from becoming fender meat.
It's at that moment that Brent simply helps the girl back onto the sidewalk, smitten with her drugged-out smile and laugh. As he parks his car later, Carly leaves and he begins to wipe down his prized possession, taking a picture of the hand prints left by Phee. This becomes a reoccurring theme throughout the movie as Brent documents his budding relationship with Phee with text messages and camera-phone video.
From here, we're introduced to the living conditions of Brent's family. Brent lives in a filing cabinet for the poverty stricken. There's graffiti everywhere, piss in the elevators, and hooligans in sweatsuits and Burberry caps, hassling visitors and tenants.
Brent, like Sid Vicious without the self-destruction, has his shit together for the most part. He regulates the bullies in his building and manages to cook and clean for Billy and Craig all the while, because of Carly's incessant nagging, trying to fill out paperwork to move into a better place outside of the dysfunctional ghetto they live in.
Carly craves for a better life, but Brent loves his car, the shop he works at, and his group of tight-knit friends. Despite having a kid soon, he's refusing to grow up. On another chance meeting, he finds Phee at a locker at a gym where he meets her boyfriend Lawrence, a rich, abusive waif that sings in a shoegazer band who also keeps Phee drugged up like a slave on dope. Lawrence makes it a point to show that Phee belongs to him by being a douche. Having none of this kid's bullshit, Brent hammers this bitch like a nail in front of his friends and walks off. At this point, Brent is the coolest fucking dude on the planet in between Hunter S. Thompson and Tyler Durden.
In between trying to balance his life and work, there's news that Mister Smiley, a ruthless Jamaican driver is in town and will do anything it takes to win a race. Smiley finds Brent and challenges him, because Brent has street cred and this movie needs to have at least one race in it, right?
In the meantime, local hoods Kelvin and his buddy spend time drinking butane, huffing paint, and smoking weed, forcing Craig to do the same. Craig, not having any friends, takes the verbal and physically abuse from Kelvin and company, thinking it's normal everyday behavior and that they're really good guys at heart when in reality they are the neighborhood's resident terrorists who take great pleasure in boosting cars and burning them for fun.
Hearing about this, Brent races Kelvin over the fate of his brother, basically telling him to "fuck off" and leave him and his family alone if he wins. Brent wins, obviously, but this still does not keep Craig from going back to hang out with the hoodlums, due to killing the brains cells he wasn't even born with.
As Brent and Phee become closer, both sides of the world's they live in become intertwined, making it more and more difficult for them to be together.
I loved this movie. It's dark, gritty, and is a picture-perfect snapshot of today's youth. More than a social commentary, it beautifully displays how narrow-minded everyone can be when wrapped up in their own misery and left to their own devices. The world shrinks to the size of the city you live in and every decision is life and death. No one is thinking about the future, only the next line to snort, self-inflicted wound to make, or girl to have sex with.
There are several poignant points in the movie, but the most important one is a reference made to dolphins, especially those in captivity. During one of their dates to an aquarium, Brent relates to Phee how his mother used to take him and his brother to the same place to visit a pair of dolphins raised in the relative safety of the aquarium.
Once released, they could not fend for themselves and were eaten alive by sharks five days later. You realize at the end of the movie, Brent and Ophelia are those dolphins, ready to be eaten alive by the vengeance of her rich boyfriend who has connections, the hooligans in his own building he's made enemies of, or the world in general. And in that way, it's still a tragedy.
It's sad that this gem will never receive the credit it's deserving of, because despite it's ugly flaws, it's still inherently beautiful, which I believe in the end, is all that really matters.
Decision: Queue It.
Dante Villanova
Dante Villanova is an avid freelance fiction writer, movie reviewer, and video game enthusiast. He dual wields sarcasm and cynicism like twin katanas and enjoys filleting pop culture for sport.